This brief tutorial has been put together following a recent problem with a Windows Vista PC that supports dual monitor output. Depending on your experience with using more than one monitor at a time, working your way around mouse direction issues may not always be as easy as it appears.
The Problem
Usually, the problem with the mouse direction is noticeable after the dual monitor set-up is completed. Basically, you notice that you are unable to move your mouse from the primary monitor to the secondary monitor in the left to right direction. While this gives the impression that the cursor is stuck, you also observe that moving the mouse to the left of the primary monitor actually makes it appear on the right of the secondary monitor. So then, how can you make it work vice versa i.e. primary-right to secondary-left?
The Solution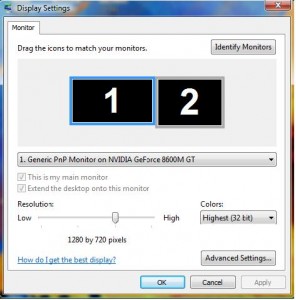 There are potentially two solutions to this problem. First, you can physically swap the monitors around so that the secondary monitor is to the left and the primary monitor, to the right. However, this is not very practical. Thus, alternatively, right-click the primary desktop, select the Personalize option, then Display Settings and locate the pictures of both monitors in the Monitors tab. Next, use the mouse to drag either monitor to its correct position (i.e. left to right or vice versa), click OK to save settings and you are done.
Talking Point
Do you know how to change monitor-positions in other operating systems? You can compare dual monitors here.