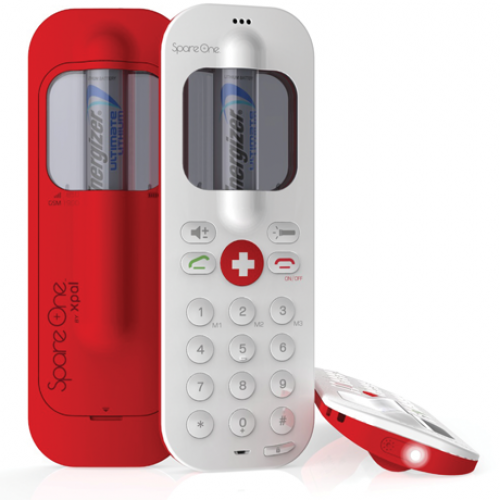 We've all been there. Your phone dies and it just so happens you have to make a call that very minute, but what if you're miles from the nearest town or a natural disaster has shut down your town's power grid? You could be without communication for days maybe even weeks with no way to charge up your cell phone. SpareOne have just launched a solution to this problem with their new Emergency Phone which remarkably runs for 10 hours of talktime on only one AA battery.
SpareOne's President, Christian Scheder, announced the launch of this device last month at the 2013 Consumer Electronics Show in Las Vegas. As Scheder explains; "the AA battery is the most common battery in the world, so you can take any AA battery from say… a toy, and put it in this phone." The obvious benefit is the abundance of such batteries in our day to day life and the fact that each battery has an average shelf-life of 7 years. This makes the SpareOne a perfect addition to your standard emergency or first-aid kit and one that you won't need to keep upgrading. Being so light and portable it could be useful to have in your backpack when travelling, in the car glovebox, or in a suitcase on holiday.
The device is equipped with speedial to store up to 9 important numbers and an incredibly useful LED torch in its base. But the most important feature is the ability to call the emergency services at any point without the need for a SIM card, calling credit, or a charger; you just pull out the battery-seal and make the call. This means it could stay in your car for almost a decade and then right when you need it, in the middle of nowhere, with a dead iPhone and darkness falling, it would be there to help you get the emergency support you need.
There is, however, a slight snag. In certain countries emergency services do not accept calls from phones without a SIM card, so if you're using this whilst travelling or as a "go to" emergency phone for all eventualities you could be left high and dry. I have discovered, however, that it is compatible with all regular SIM cards and after checking out a few options I've found that the best option is a global emergency SIM like the "Passport Lite" (which can be found here). This card can be preloaded with credit that works in over 185 countries and can freely receive calls in many of them. As well as being able to call the emergency services across the world, this will also allow you to get in touch with friends and family which can be essential during disaster situations.

DIY Emergency Phone Pack
Get a SpareOne Emergency Phone
Load up on long-life AAs (from somewhere like LiGo Electronics)
Get a Passport Lite SIM card
I hope you never have to use it, but in my view it's always better to be needlessly prepared than hopelessly in trouble, best of luck!