Intel has finally announced the launch of Thunderbolt, a new technology for connecting computers and peripherals. The Thunderbolt system which is said to be able to transfer data twice as fast as the USB 3.0 was first announced under the codename, Light Peak, in 2009. For now, Thunderbolt top speed is expected to be limited to 10 Gbps which is still far below its theoretical maximum speed due to the current use of copper wires instead of optic fibre cables. According to Intel, future versions of the Thunderbolt connect will be able to attain 100 Gbps.
Apart from faster its data transfer rate, expectations of Thunderbolt include a notable reduction in the number of cables used when setting up a computer connection as it is able to carry multiple types of signals simultaneously thus enabling power, display and peripherals to use a single cable.However, while this new technology is sure to change many things in relation to computer device connections, users should expect to use special adaptors to connect older devices to Thunderbolt sockets until it becomes universal.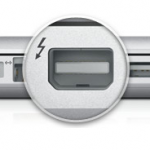 With many manufacturers such as computer and HDTV makers, waiting to take advantage of the new system, Apple will become the first to use the Thunderbolt. Already, the organisation is expected to gradually move towards using a single connector starting with its Macbook Pro laptop. However, it remains to be seen whether Thunderbolt will be appealing to consumers or not, with price expected to play a major role.
Talking Point
What does the future hold for other connector standards, such as USB and Firewire?