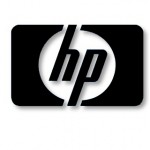 A computer memory chip that could make computers faster, more powerful and efficient has been showcased by research at Hewlett Packard (HP). The devices were built with memristors, which are electronic elements that can be used to crunch data and build more advanced chips. Their unique properties include the ability to store and process data at the same time, in the same devices thus placing them in a good position to replace transistors which are currently used to build chips today.
Memristors can be stacked together for greater compression and researchers claim that it would offer 10 times more storage and processing power than current chip architectures. By combining the functions of both the processor and memory, memristors have the potential of making data computation faster and conserving energy. Such is the potential of the memristor that some researchers are already predicting they can be used to create real brain-like computers.
Although proposed by Professor Chua in 1971, a working memristor was only built about forty years later by Dr Stan Williams (of  HP) and his team. The tiny devices, which are described as the "fourth" basic building block of circuits, after capacitors, resistors and inductors, has been predicted to be on the market by 2013 in smaller digital devices such as iPods and cameras.
The HP work is published in the Nature journal .
Talking Point
Do you have any other predictions for the future computer considering the long-term potential of memristors?