If the one of the ink cartridges on your Canon printer runs out of ink, you will have to either buy a new Canon ink cartridge or do a Canon ink refill. It is recommended that you refill your existing ink cartridge because brand-new Canon ink cartridges are expensive. You can go to a printer filling station to have your empty ink cartridges refilled or you can refill the cartridge yourself. Refilling a black Canon ink cartridge is easy, but refilling a color ink cartridge is a bit trickier so you may need to ask a trained professional to refill a Canon color ink cartridge for you. Continue reading if you want to learn how to refill a Canon color ink cartridge.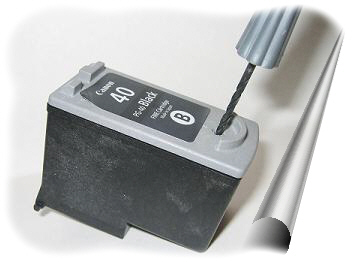 Buying Ink for Your Color Canon Ink Cartridge
You will need to buy some printer ink in order to do a Canon ink refill. You will need to buy cyan ink, yellow ink, and magenta ink. Make sure that your printer ink is compatible with Canon ink cartridges and Canon printers.
Preparing Your Color Canon Ink Cartridge
First, you need to remove your empty color Canon ink cartridge from your printer. Read the printer's user manual if you don't know how to remove an ink cartridge from your Canon printer. Read the manual before you remove your ink cartridge to avoid damaging the cartridge and/or printer. After removing your empty Canon ink cartridge, place it upright onto a clean paper towel. Next, get a blade knife and hold the empty ink cartridge upright with one hand. Insert the knife's blade in the small space between the cap and the body of the cartridge. Twist the knife gently to pop off the cap.
Underneath the cap, there are six holes. The 3 smallest holes are the cartridge's refill holes. You will be using these refill holes to do a Canon ink refill. Get a thumb drill and insert it into each of the refill holes. Turn the thumb drill clockwise until it drills into the plastic seal protecting the holes.
Doing the Canon Ink Refill
Each of the refill holes must to be filled with a specific ink color. The cyan ink goes into the top hole, the yellow ink goes into the bottom right hole, and the magenta ink goes into the bottom left hole. Get three plastic syringes and fill them with about 3 cc. of ink. Each syringe must contain a single color only. Do not mix different colors in a single syringe. Get a piece of tape and tape over the magenta and yellow refill holes. Insert the cyan ink syringe into the refill hole for cyan ink. Use the same process when refilling the other holes, making sure that you cover the other holes while refilling.
Let the refilled Canon ink cartridge sit on some clean paper towels for a few minutes to catch the ink spills. After making sure that ink is no longer leaking out of the cartridge, put it back into your Canon printer. Wait for about 8 hours and then print a test page to check if the refilled Canon ink cartridge is working properly.
If you are still confused, you can checkout Canon refilling instructions by cartridges numbers.