There are lots of tools on the Internet that you can use to create infographics. Many of them are free because programmers are paid to create tools that will draw traffic, instead of ones that will turn a particular profit amount. Which tools are the best is a very subjective matter, but here are a few of the ones you may find useful if you are a new or intermediate infographic creator.
This is a timeline website that allows you to turn web content into a visual timeline. It is more of a history creation website. A person could conceivably display the progress of their web search by showing what pages they looked at in which order. Another use may be to display which music events you attended and when by displaying their website on your timeline and annotating the entry.

This tool allows you to create fun infographics with a simple drag and drop system. The interface is simple and the elements do their job without the need for further design or detailed customization.
Obviously created by an Apple fan. The tool is mostly about chart creation, and is good for people who are tired of using the same old chart types that you see with most tools. You may visualize small chunks of simple information, or larger chunks of convoluted data. It has lots of options that enable you to pick the right chart style for you and then distribute the information as you see fit.
Is the unimaginatively named tool that allows you to create infograms that are both static and interactive. It has a very handy function through which you can import raw data. The data is then converted into elements you can put into your infographic. As you may imagine–most of the elements it creates are charts and tables.

This tool allows you to use a number of visualizations such as images, chart exporters, themes and icons. It offers you the standard color schemes, fonts and shapes and allows you to export your finished product so that you can embed it within your website. The tool is easy to use, is simple in its design and does its job. As a starter tool or a tool for people with little time on their hands, it is not without its charms.
This is a web based data processing and visualization tool that you can use on your desktop. It is great for data analysis and offers a mapping function, which is reminiscent of the one used on Google Trends. It is not a tool you may use for tracking what you had for lunch, but is very handy if you have a project with a lot of bulky data, which you need to analyze and simplify into a usable display.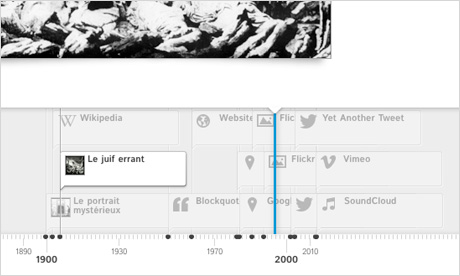 This is a tool that allows you to create a more traditional timeline such as the one they have added to Facebook. Its use is incredibly intuitive to the point where most online users are not going to struggle when using this tool. You are able to import data or pull it from various sources. It also has support for most of the biggest social media, and even a few websites such as Wikipedia and Google Maps.
You may create and publish your infographics with this tool. If you are new to infographics then it may be a good idea to create a few with this tool in order to practice. It will allow you to create your infographic, publish it, track its progress and stimulate user engagement. You are able to add your infographics to a blog or website if you wish. The elements it offers are no more spectacular than most other tools, but are unique at least within the terms of free online tools. For example, you will see similar charts with other tools, but yours will have subtle/slight differences.
This is a tool that was created as a way of helping people to create infographics quickly. You do not need any design experience and the system is so simple that very little prior learning is required in order to use it.
With this tool you may create an online resume. It works like a resume creation site, except for that you are able to display your life, career and achievements on a highly graphical infographic. It is actually a very progressive visual resume creator, and the business world could use more of this. Many resume's are skim read and discarded, but even an infogram as a first page of a resume would be a good idea because it takes a snapshot of the kind of person you are, and the kind of employee you would be.
This is a tool that helps you to personalize your infographics. It is especially useful if you are using templates and such things, because you can manipulate graphics and elements so that they do not look like everybody else's. You may create very colorful infographics through which you may tell people about yourself. You can tell people about all of your social media habits, or what you feel about the current political climate. It is a good way of informing the world about your digital life. It is not really a MySpace page creator or even similar to a Facebook page creator.