We all know that, in the past, people used to store their wine bottles in caves and underground cellars. These spaces were cool, dark and kept the bottles moisture free. But these days, the wine refrigerator cabinet has taken the market by storm and today we can easily store our wine bottles in these cool appliances.
Caves or underground cellars and electric refrigerators use the same technology because both can keep our wine cool and moisture free. But if you store the wine in a normal refrigerator then you will not be able to feel the same taste after some months.
This is the main reason for using special wine refrigerators and cabinets because, with these special devices, we can keep our wine bottles with their strong flavor intact and will feel the same taste of the wine after many years. But generally, you cannot store the white wine for a longer period, and it cannot be stored in a normal refrigerator for more than seven days.
But for traditional wines or red wines, you can easily store them in a normal fridge for a few months, and it is possible to store them in the wine refrigerator cabinets for many years.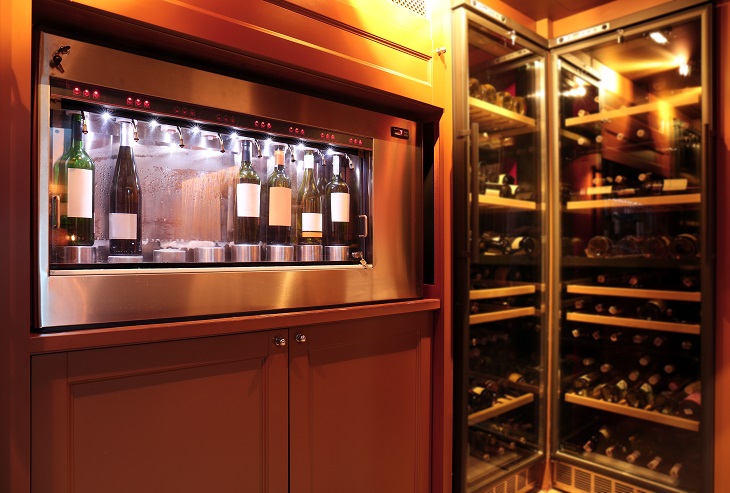 Why Would you Use the Wine Refrigerator Cabinets? 
For storing the white wines, you need to maintain the humidity level. You can preserve the white wine with 60% to 70% humidity level only. But in reality, the normal refrigerator can maintain 30% humidity level and the higher humidity level can harm your wine after few days. So it is better to finish your white wines within a week, but if you use a wine refrigerator cabinet, then you must finish the white wine bottles within one or two months maximum.
As stated earlier, wines are served best when stored in the caves and underground cellars. But today, it is impossible to afford an underground cellar for a common man and caves have become a thing of the past. So, the best option to store wine is in the wine refrigerator cabinets, and they are a hassle-free product for your house. Also, it is possible to find some small wine cabinets in the market and you can place them at your bar counter.
You can also purchase a normal cooler to store your wine for a short period. But if you want to store them for a longer period, then you must buy wine refrigerator cabinets. People usually say that wine becomes rich in flavor after a long period of time. This is true, and you will feel the difference after five to seven years, you can enjoy or serve your old wines with some ice cubes to your guests when you throw a party. These wine cabinets are also available in different designs, and you can purchase a 12 to 35 bottle wine cabinet for your home.
Many people store their wine bottles on wooden shelves, and most of these shelves are installed in their kitchen. After few months, their wines lose the pigment and flavor due to heat and sun's light. So, do not use any wooden shelves and buy wine refrigerator cabinets for your expensive wines.